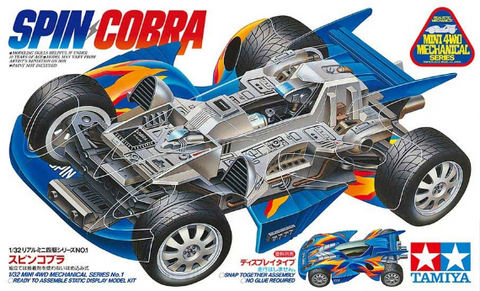 TAMIYA 1/32 Scale Jr Spin Cobra "Static Model" - kit #19301

• Mini 4WD static car model assembly kit. Length: 127mm, width: 86mm, height: 37mm.
• Features a transparent body that can be left clear to see the inner details of the model, or painted as you wish.
• Separate metal-plated parts are included to recreate body interior/chassis detail. Non-plated parts are also included to depict chassis, suspension, tire cowls, and more.
• Tread-patterned tires (front: narrow, rear: wide).
• Stickers are included to decorate the model.
• Assembly manual features instructions on cutting the body so it can be employed with Super FM and Super-1 chassis to create a running model.