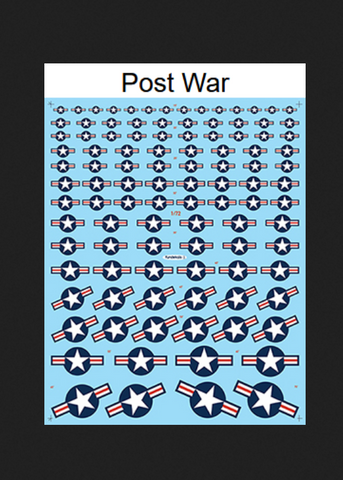 Fundekals 1/72 scale STARS AND BARS Post War decals - FUN72011
Please note: the Fundekals are the decal markings only.

In mid-1943, the US implemented what has become the basic standard for their national insignia. For a brief few weeks in the summer of that year, the new design with white bars had a red surround. In September, the red was replaced with Insignia Blue. When the USAF was broken off as a separate service, and the War Department changed to the Department of Defense in 1947, red stripes were added inside the bars, resulting in the insignia still in use today.

Our insignias are constructed precisely according to the published specification created in 1943, and updated since. Unfortunately, the insignia decals in a lot of model kits, and even a few aftermarket decal sheets do not conform to the specification. We have tried to match the colors used as closely as possible to the actual standards ranging from 15" (nominal diameter - measured by the diameter of the circle that touches the outer points of the star) to 70", in 5" increments, covering virtually every application possible. While not every aircraft used a size divisible by 5, the vast majority did. With a little math you can also use these insignias for projects in other scales, but we'll leave that to you!