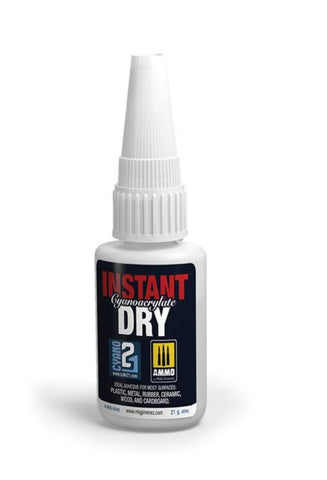 Ammo Mig Jimenez INSTANT DRY CYANOACRYLATE AMIG8046 - 21g.
INSTANT DRY CYANOACRYLATE
AMIG8046
Cyano 21 is a multi-purpose cyanoacrylate glue that creates a strong bond with materials such as plastic, metal, wood, and resin among others.
It provides an extremely strong bond and dries in only 10-15 seconds. This product can withstand temperatures of up to 150 ºC (300 ºF) approximately, and forces of up to 180 kg/cm2 (2500 psi). It can be applied directly from the bottle or by using a tool for a more controlled application. Cyanoacrylate acts by capillary action, the bond created is resistant to water, mild stress, and handling.
Keep out of reach of children. Be sure to close the container well, use the product with protective equipment in a place with adequate ventilation. Keep it away from high temperatures. Avoid contact with skin and eyes. If this happens, rinse immediately with plenty of water.